Geosciences & Natural Resources
TEACHING-SPRING 2011
NRM 140: Introduction to Natural Resource Management
TURTLE DOGS--A Friend of mine brought these guys to NC last year and I hope to bring him back in 2011: Check it out!!
BALSAM MTN TRUST--Their support has made the turtle work possible. Look for the birds of prey and other programs!
EARTHSHINE LODGE Check out the great work my friend Steve O'Neil is doing at the Earthshine Lodge Nature Center.
ECOSNAKE: (Cool site and folks doing some good work in ID)
Ron Davis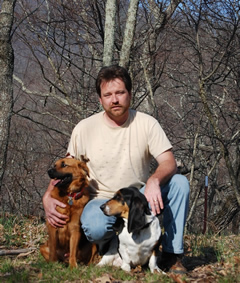 Assistant Professor: Natural Resource Conservation and Management
Office: Stillwell 318
Phone: (828) 227-2726

Email:rdavis@email.wcu.edu
"If there are no dogs in Heaven, then when I die I want to go where they went." -Will Rogers
"Science fascinates me....no where else do get such wholesale return of conjecture for such a trifling investment of fact" Mark Twain.