The Unit of Study: Do you Want Paper or Plastic? An Inquiry into Single-Use Grocery Bags
This website offers web-based resources related to the unit's content and focus on the inquiry process. It also shows examples of how a selection of Web 2.0 tools may be used by teachers and students to support their learning and represent the knowledge as it is constructed as a result of the inquiry process. To access the resources for each lesson, use the menu to the left.
Overarching goals of the unit are to build and enhance young children's:

understanding of the causes and effects of contemporary environmental concerns.

ability to analyze local, national, and international environmental policies and practices.

skills in perspective-taking, critical thinking, research, and decision-making.

Unit Enduring Understandings. Students will understand that:

The goods we purchase are made of limited natural resources; therefore, we must make
informed, thoughtful choices as consumers.
Scientific discoveries and technological innovations change the way people live and
work. These changes may result in predictable or unpredictable, positive or negative
effects on living things and the environment.
People have diverse perspectives that may help to explain the behaviors of individuals
and groups. Sometimes these different points of view lead to conflict.
Governing bodies affect the choices or decisions we make as consumers through the
implementation of laws and policies.
Being informed is a civic responsibility.
An individual's choices and actions can have a positive impact on others and the
environment. Anyone can be a "solutionary"!
Each lesson is structured around Kath Murdoch's inquiry cycle.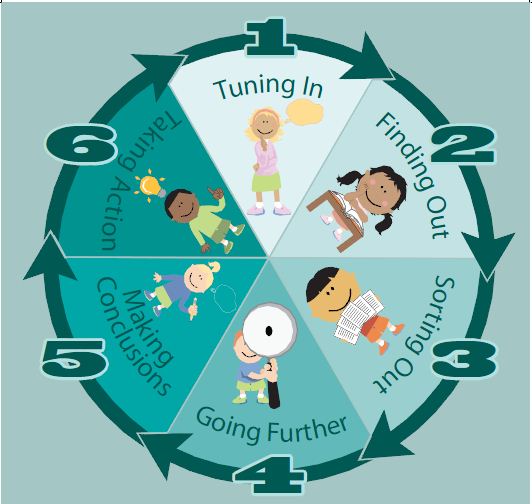 Source: Murdoch, K. (1998). Classroom connections: Strategies for integrated learning.
Prahran Victoria, Australia: Eleanor Curtain Publishing.
Poster designed by John Crawford, www.crawfordesign.net
Lesson 1: "Tuning In" to Consumption - In this lesson, students learn about the origin of everyday products in their lives, concluding that most are derived of precious, limited natural resources. Students "tune in" to the effects of consumption on the availability of resources and to the environment by exploring their prior knowledge and establishing research questions regarding one specific issue: which choice is best, paper or plastic bags?
Lesson 2: "Finding Out" about Human Innovation - This lesson builds students' understanding of the production of goods with a focus on why new goods are made to replace older products or ideas. Students will discover the intentional and unintentional consequences of human
Lesson 3: "Sorting Out" Diverse Perspectives - In this lesson, students develop awareness of the diverse spectrum of human perspectives and how they influence beliefs and behaviors. Students' skills in perspective-taking are enhanced through reading and discussing a work of fiction, relating point of view and author's voice to the contemporary example of stakeholder perspectives in the issue of single-use, disposable grocery bags. By understanding a range of perspectives, students begin to sort out their research findings and to validate sources of information.
Lesson 4: Going Further - Local to Global Bag Politics - Students go further in their inquiry into the issue of single-use, disposable grocery bags in this lesson on plastic bag laws and policies. By learning how various jurisdictions at the local, national, and international levels have responded to this issue, students begin to understand how complex, controversial, and everevolving are environmental concerns, economic systems, and politics. Through collaborative research, students will discover that policies set in place by governing bodies affect consumers' choices.
Lesson 5: Making Conclusions, Making Informed Choices - In this lesson, students learn the concept of civic responsibility as it relates to resource use and waste disposal. Drawing upon their research-based findings, reflections, and experiences, students begin to make conclusions regarding the issue of single-use, disposable grocery bags. Students demonstrate metacognitive abilities as they reflect upon how their ideas and feelings have changed throughout the course of the investigation, ultimately deciding upon what is most essential to communicate with others. By the lesson's end, they will understand that being informed is beneficial not only to one's personal development, that it is also one's civic duty.
Lesson 6: " Solutionaries" Taking Action - In this culminating lesson, students will reflect upon their learning about the specific issue of single-use, disposable grocery bags and how they can be positive change agents in their communities. Students will first explore how adults, children, and organizations like UNICEF take action to promote environmental sustainability. Using these examples as inspiration, students will determine how they, too, can be "solutionaries" by planning and implementing action steps that lead to a more sustainable future.