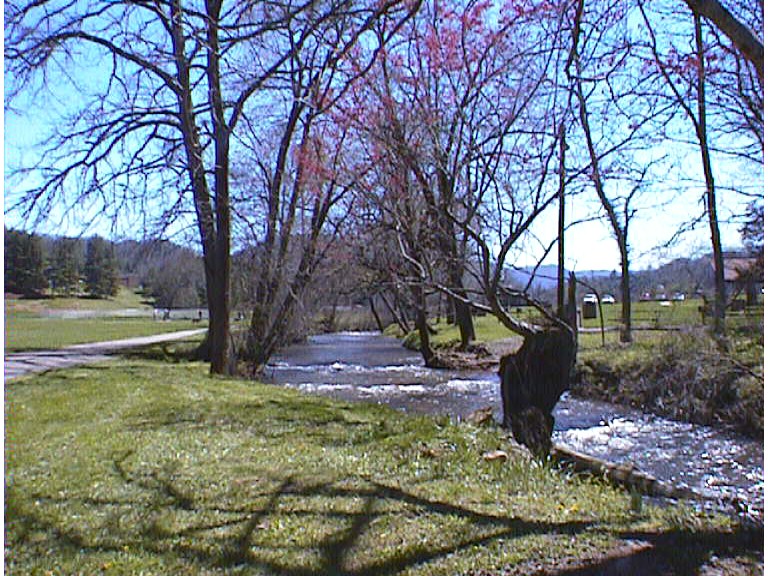 The Cullowhee Creek
Restoration Project

The
United States
has more than 3.5 millions miles of streams, many of have been degraded by present and past land use activities.
Cullowhee Creek on Western's campus is no exception.
Stream corridors are complex ecosystems that develop due to the sum of many natural (ex. hydrology, topography, geology, biology) and artificial influences (ex. land use, storm water diversion, alteration of stream path and channel banks).
Disturbance of streams can result in a variety of adverse changes as the stream system attempts to adjust to new conditions; these changes can include increased sedimentation, disruption of natural flow conditions, decreases in biodiversity, and deterioration of water quality.
A restoration project for Cullowhee Creek was started in June 2005. The project was halted prior to the start of the Fall 2005 semester and is scheduled to be completed during the summer of 2006. The restoration project is being funded by a land development company to receive mitigation credit for some development related stream disturbance in southern Jackson County. The restoration of Cullowhee Creek at Western, or more accurately called rehabilitation, will attempt to restore much of the streams natural functions to improve, among other things, channel stability, biodiversity, sediment transport, and storm flow regulation. Many Western students, especially those in Geology, Natural Resources Management, and Biology, are involved in monitoring of the restoration to evaluate project success.
Cullowhee Creek Stream Restoration Links

Cullowhee Creek Resources
General Topographic Map-Campus
General Topographic Map--Cullowhee Creek Watershed
General 3-D Satellite Image--Cullowhee Creek Watershed
Campus Map
Detailed Aerial Photographs and Restoration Plan Maps

Restoration Assessment Methods (Geology Courses)
Channel Profile and Structure Evaluation
Riparian Channel Evaluation
Geology Students in Action--Photogallery
Photographs and description of the Cullowhee Creek Restoration

The Cullowhee Creek Restoration Project
Buck Engineering (The company performing the restoration project)
WCU Press Release on Restoration

Mountaintop community (community development using Cullowhee Creek for mitigation credit)
Discovery Land Company (Company that is developing Mountaintop)


General Stream Restoration Links Page


rev. sept. 05